‹ Back to programs
Parenting in a New Culture - Focus on Fathers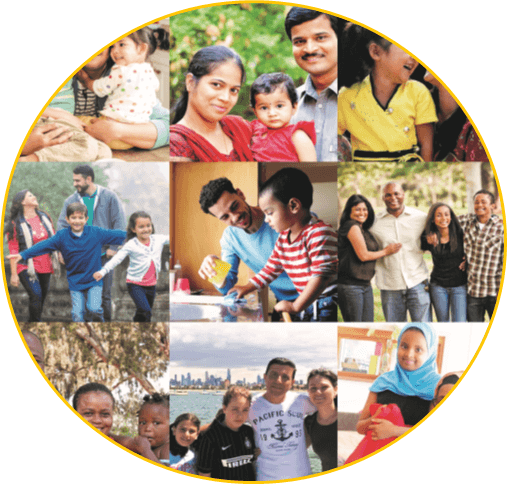 Parenting In a New Culture: Focus on Fathers program engages with fathers from migrant, refugee, asylum seeker and CALD backgrounds to address the challenges and opportunities of navigating parenting and family life in a new cultural context.
We explore the differences in parenting norms between Australia and participants' countries of origin, and aim to instil enhanced parental confidence and improved family functioning. The course explores the settlement journey, the intergenerational conflict that often accompanies the migrant experience, and the specific experience of migrant and refugee fathers including differing concepts of manhood and masculinity across cultures, potential loss of status as the family breadwinner, different norms and laws regarding discipline in the home, etc.
The six program modules cover the following: 
1. Parenting In a New Culture 
Including the differences in concepts of family between country of origin and Australian culture, exploring ethnic identity and culture and the values we want to teach our children, understanding the acculturation process and the way values can change over time, and strategies for supporting healthy bicultural identity in children 
2. Your relationship with your child 
Including positive parenting, developmental milestones, identity formation in bilingual children, building self-esteem in children, and connecting children to their past 
3. Guiding your child's behaviour 
Including positive discipline strategies and child protection legislation 
4. Learning in school 
Including information about the Australian school system and how it may differ from the country of origin, how to get children 'school ready' (both for pre-schoolers and older children entering Australian schools for the first time), signs that children might be struggling at school and how to address these, and strategies for becoming involved in children's education 
5. Parenting teenagers 
Providing a forum for parents to raise their concerns and feel supported, understanding intergenerational conflict and why it occurs, strategies for parenting teenagers and for working through common causes of conflict in multicultural families. 
6. Managing family stress 
Including common stress factors for multicultural families, signs that people are overly stressed or not coping, and ways to reduce stress 
The program usually engages with a group of men from the same cultural background (though mixed groups can be accommodated too) and is co-facilitated by a Spectrum facilitator and a bicultural worker from the community we are engaging with, to ensure every course delivered is targeted to the specific needs and strengths of that group of participants. 
Focus on Fathers can be delivered as a face-to-face group or as a virtual, online group. It is engaging and interactive and draws on the strengths and experiences of the men in the room. It is not a lecture series!
We are funded by the government to deliver Focus on Fathers at no cost to participants in a number of selected regions within Melbourne and regional Victoria. We also provide training to organisations who want to deliver the program and join the Parenting In a New Culture (PINC) community of practice. 
If you are interested in referring a participant or becoming a delivery partner organisation, please contact us on the details below: 
Romy Vitalien
Manager
Settlement and Family Services
romyv@spectrumvic.org.au
0432 508 698
Organisation
Spectrum
Location
Selected regions within Melbourne and regional Victoria.
Email
Phone
Website